Walking Dinner Saturday March 24, subscribe now!
This year the "Walking Dinner Statenkwartier and Geuzenkwartier" takes place for the ninth time. Every pair of people in the Statenkwartier and Geuzenkwartier can participate as chefs or as guests. The date for the Walking Dinner Statenkwartier and Geuzenkwartier is set : Saturday March 24, 2018.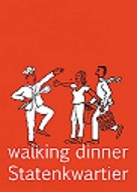 The previous Walking Dinners Statenkwartier and Geuzenkwartier were a great success. There has been cooked, eaten and chatted and new contacts have been made and new initiatives have emerged. A nice mix of long-term residents and new residents, including expats, participated in the dinner.
How does the Walking Dinner work?
In this 9th edition also, the participants will receive a dinner in which a full 3-course menu will be presented. Home chefs prepare the most delicious dishes.
After an explanation of the program in the Couvéehouse, guests go to three different addresses in the neighbourhood to enjoy a starter, a main course and a dessert with neighbours at home.
The chefs cook the starter, main course and dessert in their own kitchen. And with each course a new group of guests is sitting at the table. Chefs can indicate for themselves how large the group may be for which they cook. Groups consist of 4 to 6 people, but more is also possible. Chefs and their partners are naturally at the table with their guests. All chefs receive a fee per guest for the ingredients and the wine.
We jointly conclude the evening in the Couvéehouse. Chefs and guests can then have a chat with a glass of wine, beer or water
For the chefs: 'Haute Cuisine' is not required, only a joy of cooking and the pleasure of welcoming people into your home.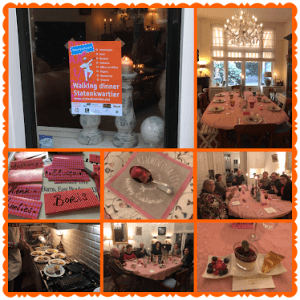 For the guests: The chef receives a changing group of four to eight guests per course. After an hour the guests leave again (walking ..) to another chef for the next course (dinner ..) with different fellow guests. Guests enjoy a three-course surprise meal and in the meantime get a look in three different houses.
Actually, you think you should be a chef this year but a 3-course menu is too much or you doubt your cooking skills? Perhaps cooking 1 or 2 courses is a possibility. As an organizing committee, this year we want to see if it is possible to link chefs who want to cook 1 or 2 courses. You can contact us by sending an e-mail to wdstatenkwartier@hotmail.com. Together with you we look at what the possibilities are and how you want to implement this.
Practical information
Costs per participating guest: € 30, – all-in.
Guests have to live in the Statenkwartier and Geuzenkwartier
Guests will pick up their 'Walking route' at 17.30 in the Couvéehouse
Costs per participating cook: € 0, -. Every cook puts together his own menu and does theshopping for it. For information: the organization has organized discount agreements with various retailers in the neighborhood.
Cooks live in the neighborhood and open their home for the guests that evening.
The cooks receive a fixed compensation from the organization for the cost of the meal of € 8.50 per guest per course, including drinks.
Cooks receive the first guests at 6.30 pm and the last guests leave at approximately 10.15 pm.
Sign up as a CHEF:
If you wish to sign up as a chef log on Registration as chef.
Sign up as a GUEST:
If you wish to sign up as a guest log on Registration as guest.
The registration period closes on Friday 2 March 2018. Full is full!
We look forward to seeing you around the dinner table!
The organizing committee Walking Dinner Statenkwartier.
https://www.statenkwartier.net/wp-content/uploads/2018/01/Bewerkte-logo-Walking-Dinner-klein.jpg
192
137
Nicole
Nicole
2018-01-16 17:57:10
2018-01-17 09:23:16
Walking Dinner Saturday March 24, subscribe now!