Walking Dinner Saturday March 11: subscribe now!
It is with great pleasure that we look back on the successful previous Walking Dinner Statenkwartier. We will remember it for lots of lovely cooking, eating, drinking, walking and chatting. New contacts were made and friendships born. An interesting mix of old and new Statenkwartier residents and expats. We have now set a new date for the next Walking Dinner Statenkwartier: Saturday March 11, 2017.
How will it work?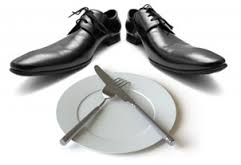 The evening starts for guests at 5.30 pm in the Couvéehuis (neighbourhood centre), Frankenslag 139 (at the corner of the Prins Mauritslaan). After enjoying a drink and receiving some instructions, they leave for their first course at a given address.
If you choose to be a chef you will prepare a 3-course meal for several guests. You will be joined at your dinner table by a different group of people for each individual course. After one hour, the guests depart, map in hand, and walk to the next chefs home for the second course and once again for the dessert. Chefs thus welcome 3 groups of guests in their home and guests get to enjoy a 3-course surprise meal while getting a peek into 3 different households. Finally, after dinner, all chefs and guests have a chance to mingle in the Couvéehuis with a drink in hand to finish off the evening.
Chefs please note that Haute Cuisine is not required, only a joy of cooking and the pleasure of welcoming people into your
home. Guests only require a good appetite and a cheerful humour!
Practical information:
Cost per guest: € 28,- all inclusive.
Guests reside in the Statenkwartier or Geuzenkwartier. .
Costs per chef: € 0,-. Note that each chef chooses the menu and does their own shopping for the meal. For info, we are currently working on getting discounts at various local food shops.
Chefs live in the district and make that evening open their home to guests.
Chefs receive a fixed compensation for the costs of the meal of € 8, = per guest per course, including drinks.
Chefs welcome the first guests at 6.30 pm and the last guests leave at 10 pm.
Guests pick up their personal Walking-map at 5.30 pm in the Couvéehuis.
Sign up as a chef can using the form:
https://docs.google.com/forms/d/e/1FAIpQLScPlcqeOg8ZjbPB6wEO1-_2Rdy_MG-3oJ3kTpkzuJ5YmJCmDQ/viewform
Sign up as a guest can using the following form:
https://docs.google.com/forms/d/e/1FAIpQLScmkzXIrQC_8KGhmJB9I9KtiFPIyicw332RXPvdO7f5nR0TEQ/viewform
Registration closes on Friday, February 24th, 2017.
Do you know other people living or working in the Statenkwartier who enjoy cooking, eating and walking? Let them know about our event at www.statenkwartier.net
We look forward to seeing you around the dinner table!
The organizing committee Walking Dinner Statenkwartier 2017.
https://www.statenkwartier.net/wp-content/uploads/2017/01/fuft_images.jpeg
165
241
Nicole
Nicole
2017-01-08 10:59:50
2017-01-08 11:30:19
Walking Dinner Saturday March 11: subscribe now!