Christmas is not only a time to bring out your ugly Christmas sweaters, decorating the Christmas tree with colorful balls and impressing your neighbors with your outdoor light collection. Now, we are bringing back an old tradition of Christmas caroling to the Statenkwartier.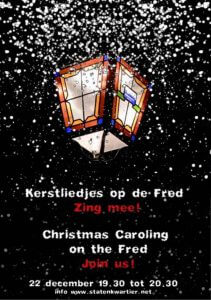 Come join us for a fun evening singing all your favorite Christmas carols. Lyrics will be provided. Come sing with us!
From 19:30 to 20:30
Two Meeting places at 19:30:
1. In front of Alpina (Frederik Hendriklaan/Frederik Hendrikplein
2. In front of Marqt (Frederik Hendriklaan/van Weede van Dijkveldstraat
Date: Thursday, 22 December, 2016
https://www.statenkwartier.net/wp-content/uploads/2016/12/15400350_10155804096943532_5227275535946990509_n.jpg
714
502
Eindredacteur
Eindredacteur
2016-12-09 09:15:05
2016-12-14 10:38:26
Thursday 22 December 19.30: Christmas carols on the Fred!