Saturday november 11th: Lanternparade Statenkwartier!
After the great success in previous years, also this year a lanternparade will be held on occasion of the feast of Saint Martin. It is a traditional Dutch event on which young children parade through the streets with lanterns, sing a little song at the door, hoping for candy.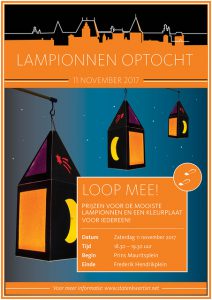 That's why we call schools, nurseries, parents and caregivers in our neighbourhood to encourage pupils and children to participate in the parade.
This time we don't supply a papercut model, but wel let us surprise by the creations of the children!
We get together at the Prins Mauritsplein and start at 6.30 PM. The route will pass Frederik Hendriklaan – Van Weede van Dijkveldstraat – Van Bleiswijkstraat – Statenplein – Adriaan Pauwstraat – Van Loostraat and end at the Frederik Hendrikplein. where we arrive at 7.30 PM.
At this place all participating children receive a coloring plate, especially made by Maarten Ruijters for this occasion. The 15 children with the most beautifull lanterns will be rewarded with a drawing workshop under his guidance, which will take place in the Couvéehuis on wednesday November 15th from 02.00 – 05.00 PM.
We ask for assistance of parents/caregivers to assist the children crossing the streets or to perform other hand and shuttle services. In case your school participates, please inform Maarten Ruijters on how many children we have to count and who is willing to assist.
We look forward to a fantastic parade!
On behalf of the Wijkoverleg Statenkwartier,
Maarten Ruijters. Email: info@architekten.com Phone: 070-342 17 485
Route lantern parade: Routekaart lampionnenoptocht 2017
https://www.statenkwartier.net/wp-content/uploads/2017/10/17130-STK-Poster-Lampionnenoptocht-171111-WEB.jpeg
640
452
Nicole
Nicole
2017-11-08 15:46:53
2017-11-09 09:40:05
Saturday november 11th: Lanternparade Statenkwartier!