Lantern parade Friday November 11th
On Friday November 11th, Saint Martin's day is celebrated.
It is a traditional Dutch feast.
Young children parade through the street with selfmade lanterns.
They ring at the houses along the route, singing little songs at the doors, hoping for candy.
All the children of the Statenkwartier and their parents are invited to join or to watch the parade.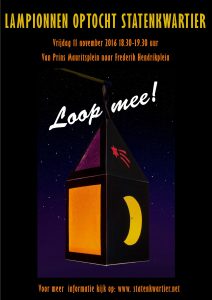 It will start at 6.30 PM at the Prins Mauritsplein and lead through the following streets:
Prins Mauritslaan – Frankenslag – Statenlaan – Frederik Hendriklaan – Antonie Duyckstraat – Jacob Hopstraat – Van den Eyndestraat.
The finish is at the playground on the Frederik Hendrikplein at about 7.30 PM.
(See map)
For more information see: https://www.statenkwartier.net/ook-jaar-lampionnenoptocht-statenkwartier-vrijdag-11-november-18-30-uur/
or contact Maarten Ruyters info@rtarchitekten.com tel 070 3553734.
0
0
Nicole
Nicole
2016-11-03 11:15:13
2016-11-03 11:15:13
Lantern parade Friday November 11th