Walking Dinner 2020 on March 28th opened! Subscribe now!
The subscription for the Walking dinner in our neighbourhood has now opened.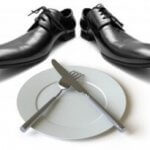 The 11th edition of the Staten- and Geuzenkwartier Walking Dinner event is upcoming on Saturday March 28th! A great opportunity to meet the people in your area, and of course to enjoy some good food. This annual three course dinner will follow the usual format and, as before, you can subscribe either as host/cook, or as a guest.
When you participate as a cook, you will host a set number of guests for each course (normally 4 or 6, depending how many you can accommodate), and you will receive an allowance of € 8,50 per guest per course. For each of the courses – starter, main course and dessert – you will host a different group of guests.
If you choose to participate as a guest, the fee will be € 30 and you will have a three course dinner, with each course being served at a different address in the neighbourhood. You can subscribe as a couple or as single.
The Walking Dinner starts and ends with a drink in the Couvéehuis, Frankenslag 139.
We kick off at 5.30 PM. A requirement for participation is that you live in the Statenkwartier or Geuzenkwartier. For more information on this event, please visit our website www.wdstatenkwartier.nl and subscribe before March 12th. First come, first served!
Hope to see you on March 28th!
The Organising Committee Walking Dinner 2020
https://www.statenkwartier.net/wp-content/uploads/2020/02/walkingdinner-300x205-1.jpg
205
300
Nicole
Nicole
2020-02-02 22:06:03
2020-02-02 22:06:03
Walking Dinner 2020 on March 28th opened! Subscribe now!