English
On Friday November 11th, Saint Martin's day is celebrated.
It is a traditional Dutch feast.
Young children parade through the street with selfmade lanterns.
They ring at the houses along the route, singing little songs at the doors, hoping for candy.
All the children of the Statenkwartier and their parents are invited to join or to watch the parade. Lees verder →
There are a lot of activities during the Just Peace Festival, also the last weekend (saturday 24th and sunday 25th of september).
To make sure you're informed about everything, please see the special website:
http://www.justpeacethehague.com/en/

In September 2016, Energy Area Statenkwartier (BES) and Energy Guards launched a new project LED TO FRED. This initiative will run until December 2016. The two organisations have teamed up to cover both the residents and local business in the area.  Lees verder →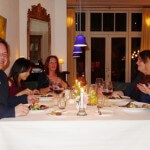 Op zaterdag 12 maart 2016 organiseert het Wijkoverleg Statenkwartier het "Walking Dinner Statenkwartier en Geuzenkwartier". Elk huishouden in het Statenkwartier en Geuzenkwartier kan deelnemen als kok of als gast. Lees verder →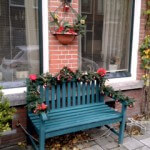 I just went for a Sunday morning walk and saw things around the Statenkwartier that made my heart explode. Now, the Fred blows me away every time. It's so sparkly, full of good energy and it even smells like Christmas. Lees verder →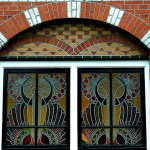 The "Grand Final" of the Light week in the Statenkwartier
Statenkwartier: open air museum for stained glass
When it comes to stained glass, the Statenkwartier can be considered as one large open-air museum. There is a huge diversity in styles, colours, and techniques. This is due to the fact that the Statenkwartier was built at the beginning of the 20th century, a period in which the use of stained glass in residential buildings was very fashionable. Lees verder →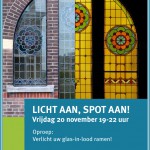 Turn on the lights! Will you help us to put the Statenkwartier in the spotlight?
Stained Glass evening
In connection with the 100 years of Statenkwartier, on Friday November 22nd we organize a festive evening around all the beautiful stained glass in our neighbourhood. We would like as many people as possible to enjoy this special cultural heritage in the Statenkwartier during this event.
Turn on the lights!
To ensure the evening will be a success it is essential that as many residents as possible illuminate their stained glass properly. So turn on the lights or put lamps in the rooms behind it en open the curtains. Lees verder →
In the light of the 100th anniversary of the Statenkwartier we're organizing free guided walks through our neighbourhood this summer. The walks on Sunday-afternoon, September 13, will be guided in English, especially for our foreign residents and visitors. Lees verder →